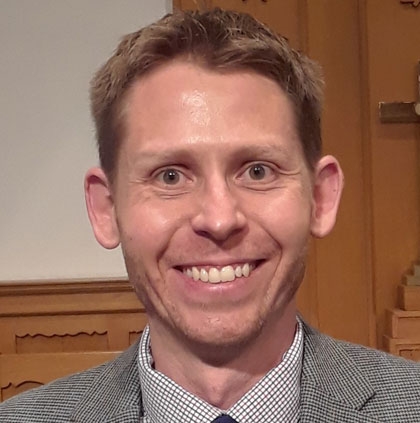 Pastor Ben was born in Knoxville, Tennessee and lived in the area for 24 years. He is a "TN Volunteer fan", an affection that's slowly changing!
Ben lived in Baltimore for five years where he worked as a journalist for The Associated Press. He met his wife Halley there through a mutual friend. During their first meeting, Halley was sure she didn't like Ben. Thankfully, her feelings changed! They were married in June 2009, and have two wonderful boys, Caleb (3) and Dawson (born in January 2019.)
From Baltimore, Halley and Ben moved to Portland, Oregon. Ben studied at Western Seminary to be near big mountains and receive ministry training in a radically different place. He sensed America was rapidly changing. Portland and Western were perfect. Climbing Mt. Adams and South Sister was awesome too.
In 2014, Wintonbury Church (CT) called Ben as assistant pastor to youth, young adults and men. He also directed the Adult Sunday Classes and often preached.
Caleb was born during this time as well and really enjoyed playing in the New England snow.
Wintonbury confirmed Pastor Ben's preaching gift, as the elders strongly supported his call to Beck's Reformed Church.
Pastor Ben is eager to help Lexington residents discover how the entire church can learn, love and live as Jesus did. He is the spring of living water in us and through us. We believe God is creating a new generation of worship, continuing what He started on this hill in Central Davidson County more than 200 years ago.
To connect with Pastor Ben, come worship the Lord at one of our two services. You can e-mail or he's also on Facebook and Instagram. To keep up with what's reading, you can connect with him on the Goodreads app or just ask someday at church.